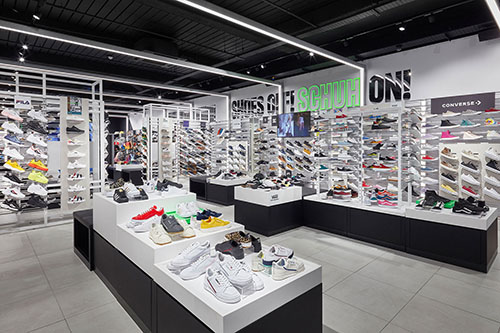 schuh
Background
schuh has been working in partnership with Trident Utilities for over five years and has enjoyed an excellent relationship over this period. Initially, Trident was employed to look after the procurement, validation and query management services for schuh's electricity and gas supplies across England, Scotland, Wales, Northern Ireland and Republic of Ireland.
The Challenge
Manage schuh's energy procurement, validation and query management
Help schuh meet their compliance requirements
The Solution
Detailed assessment of the schuh portfolio to identify savings opportunities
Further analysis of historic data going back over two years
Continuous and timely communication with the client
The Benefits
Obtained savings of over £50,000 over the next three years
A clear, accurate forecast on costs
Completed the ESOS Phase 2 assessment
Thanks to Trident's risk-managed approach to procurement, schuh has realised savings against their current contract and guaranteed competitive pricing for years to come. Trident's market analysts advised to lock in prices in early 2021 when prices were significantly below the huge wholesale market increases that have seen prices rise to their highest ever level. At the same time Trident helped schuh meet their carbon neutral objectives by securing contracts supplied by 100% renewable energy.
Using Trident's in-house software, Pulse, schuh has instant access to our budgeting tool giving them accurate forecasts on costs over a three-year period, with daily updates following market movement. In addition to this, Trident has carried out and completed the Energy Savings Opportunity Scheme (ESOS) Phase 2 assessment and recently started the ESOS Phase 3 assessment across the schuh portfolio, alongside a separate exercise looking at non-commodity analysis to identify further ways for schuh to save costs on electricity and gas.
The real story
Recently, Trident undertook a detailed analysis of schuh's maximum demand profile across their entire national half-hourly portfolio. Within a matter of weeks, Trident demonstrated there were significant savings available by reducing the agreed supply capacity at a number of stores. Following a further detailed analysis of historical data going back over two years, Trident put together a case for reducing capacities at over 20 stores. After detailed consultations between Trident and schuh, it was agreed to go ahead with all recommendations securing schuh savings in excess of £50,000 over the next three years.
Both schuh and Trident welcome the opportunity to continue their partnership for years to come.
We have formed a strong relationship with Trident and our account manager Paul Smith and look forward to continuing with Trident in the future. Over the years we have had strong results with procurement and ESOS Phase 2, and the savings we are now looking to achieve on our capacities just tops it off.
Mark Raley - Head of Finance - schuh

Contact Us
Talk to one of our consultants now!
We are specialists in all types of commercial energy. Speak to us today to see how our unique 360° service can benefit your business and individual needs reducing energy costs and optimise energy efficiency.